Close
Documenting your existing process
The first steps towards automating your palletizing process is knowing all the ins and outs of it. The Palletizing Evaluation Tool provided in this step helps you document all the relevant aspects of your process that you will need when planning your project. The tool also provides you with a report that points out potential friction points in your process and gives recommendations on how to remove or reduce these friction points. 
When you have completed this step, you will have a clear idea of the complexity of your project. You will know potential friction points in your process and how to reduce them. 
Next stage
Stage goals
Document your existing palletizing process
Identify friction points for automation
Find a Partner to work with
For this stage, you will need the following files
Completed
In progress
Not started
Coming soon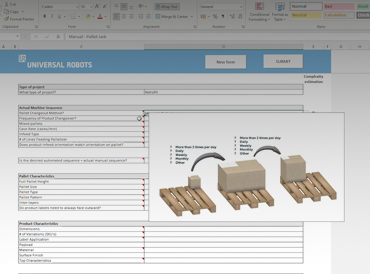 Walkthrough
1.1. Introduction to Palletizing Evaluation Tool
In this tutorial, you will learn how to use the "Palletizing evaluation tool" to document all the relevant aspects of your manual palletizing process, and how to generate a report with helpful advice on automating your specific palletizing process.
Key subjects
Document existing process
Generate report on how to automate your process
Completed
In progress
Not started
Coming soon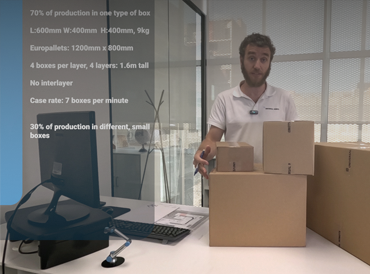 Hands-on
1.2. Customer Case - part 1: requirements and plant layout
In the first part of this video series, Guillermo introduces you to a real customer case. He describes the customer's requirements for a palletizing solution, and he shows the plant layout, production line, and initial design of the robot cell.
Key subjects
Project requirements
Plant layout
Initial planning
Verify if you reached all the goals for this stage and you have everything you need to proceed.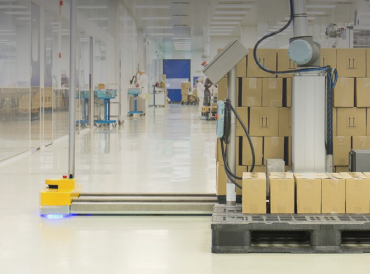 2. Cell layout and reachability test
Which robot do you need for your palletizing station? And where do you place the pallet(s) and the robot? How do you ensure the robot is able to reach all pallet positions? 
In this step, you will learn best practices of cell layout to enable you to create a first draft of your own palletizing station. 
You will also learn how to perform a reachability test in a simulation tool to verify that the robot can reach all layers and positions on the pallet, and that the robot doesn't collide with any objects. The reachability test also helps you determine which kind of gripper you need, and whether you need a 7th axis. 
Continue path